"Two roads diverged in a wood, and I – I took the one less traveled by, and that has made all the difference." – Robert Frost
There's an undeniable allure to hitting the open road, embarking on a journey that not only takes you from one place to another but also provides an opportunity for personal growth and reflection. Road movie films capture the essence of these adventures, showcasing the diverse landscapes, cultures, and experiences that emerge when travelers leave the beaten path. From the breathtaking scenery to the quirky roadside attractions, these Documentaries chronicle the transformative power of exploration and the human spirit.
Road trip documentaries have long captured the imagination of viewers, taking us on a wild ride through the most unexpected and inspiring adventures. Some of the most memorable journeys are those that push the boundaries of distance and endurance, like the longest road trip on record – a 22,406-mile, 36,058-km, odyssey from Ushuaia, Argentina to Prudhoe Bay, Alaska. These films often reveal the hidden gems that lie off the main highways, as well as the camaraderie that forms between fellow travelers.
From heartwarming documentaries to adrenaline-pumping docudramas, there's no shortage of captivating content to be found on platforms such as Guidedoc, Netflix, YouTube, and various streaming services. Whether you're looking for a movie, show, video, or docuseries to watch online, the world of road trip entertainment offers something for everyone. In this film, you will be inspired by the stories of those who have dared to venture beyond the horizon.
The Allure of the Open Road, Captured on Screen: Top 10 Documentaries
Enea, an Italian man with autism, becomes fixated on finding love as he approaches 30 and remains a virgin. His two best friends, including director Carlo Zoratti, embark on a van trip to an Austrian brothel, hoping to help Enea. This captivating documentary follows their journey, reminiscent of a '70s road movie, as they discover valuable lessons about the unpredictable nature of love.
This Film chronicles the extraordinary journey of Mario Sabah and his two sons as they set out to explore the world in their trusty 1977 car. Over four years and across 45 countries on five continents, they encounter diverse cultures, remarkable life experiences, and ultimately discover a new way of life - to live "at 60 km."
Join video game enthusiast and collector Jay Bartlett as he embarks on a 10,000-mile quest to acquire a complete library of original Nintendo games in just 30 days – without making any online purchases. This indie documentary is a treasure for Nintendo fans, delving into the history of the iconic console that brought beloved characters like Mario Bros, Donkey Kong, and Banjo-Kazooie to life.
In this genre-blending documentary, witness the captivating sights and sounds of a journey through Iceland that balances between documentary storytelling and performative exploration. The film centers around Krzystof Kaczmarek's film festival, "What's the Difference Between Pawel and Wawel," which travels across the island presenting Polish film classics, creating a unique blend of a diary film, road movie, and documentary project.
The journey alongside truck drivers navigating the challenging routes across Lebanon, Jordan, and Syria. This intimate portrait follows Lebanese driver Derar and Egyptian driver Mohamad as they confront obstacles like border delays and potential hostage situations, offering a glimpse into their daily lives behind the wheel in this volatile region.
Expedition Happiness
In this captivating documentary, filmmaker Felix Starck and his talented musician girlfriend, Selima Taibi (Mogli), embark on a remarkable road trip across the North American landscape. Joined by their loyal canine companion, Rudi, the couple transforms a school bus into a cozy, mobile home, setting out to explore the continent's stunning natural beauty.
The King
Four decades after Elvis Presley's passing, this musical road trip across America follows his 1963 Rolls Royce, delving into the transformation of a country boy into a legendary icon. The journey also examines the parallel shift in the nation, as it traded its democratic values for an imperial identity.
180° South
In this Epic Documentary directed by surfer Chris Malloy, Jeff Johnson retraces the steps of his heroes Doug Tompkins and Yvon Chouinard's 1968 journey to Patagonia, Chile. The film captures Jeff's thrilling adventures, from surfing massive waves to climbing Cerro Corcovado, as well as his encounter with Tompkins and Chouinard, who aim to protect Patagonia's beauty. This captivating documentary combines elements of a road trip, historical exploration, environmental awareness, and a reflection on personal values and vision.
Hit The Road India
This documentary follows two friends as they embark on a unique 12-day rickshaw rally across India. Conceived by a group of wanderers who set out to travel from Mumbai to Chennai in a rickshaw, the film showcases a diverse range of visuals, captivating viewers with its cinematography and artwork. Released in July 2013 after two years in the making, the film inspires a desire for adventure and was recognized by Lonely Planet in 2012 as one of the year's top ten most incredible journeys.
Riding Solo To The Top of The World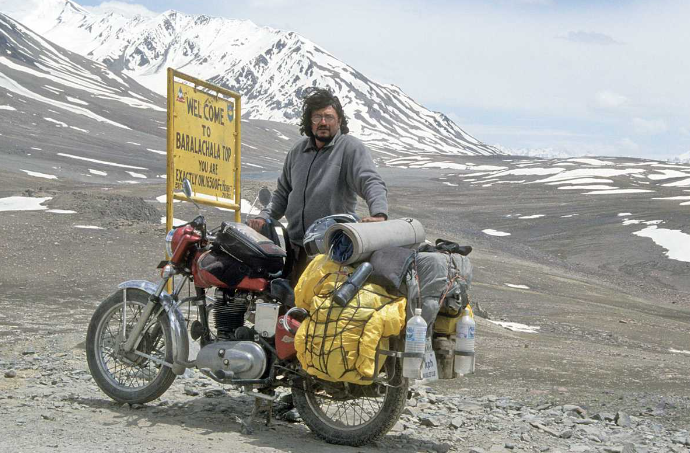 Is a captivating documentary that follows adventurer Gaurav Jani on a solo motorcycle journey to the remote Changthang Plateau in Ladakh. Overcoming technical challenges as a one-man crew, Gaurav captures stunning landscapes and heartfelt interactions with nomadic communities. This soul-searching expedition offers a unique exploration of self-discovery and the beauty of human connection.
The appeal of road trips is undeniable – the sense of freedom, the opportunity to explore new places, and the chance to create lasting memories along the way. Documentaries and docuseries that capture these journeys remind us of the transformative power of travel and the importance of stepping outside our comfort zones. In a world that often feels increasingly connected yet isolated, the simple act of hitting the road and embracing the unknown can be a powerful reminder of our shared humanity and the endless possibilities that await us.
"Watch more great documentaries on Guidedoc"