One of the pioneering themes in documentaries has always been music. Depicting the stories of artists and bands from history, and the musical movements that have inspired millions of people around the world.
This has also migrated to the documentary series form, and here on Guidedoc we're going to list (or try, there are so many good choices!) a few of our favorites.
GuideDoc is a global curated documentary streaming platform. Watch the world's best award-winning docs from around the world. New movies every day. Learn more here.
Are you looking for documentaries about music?
SOUNDBREAKING (PBS)
This is perhaps one of the most complete studies of music history. Soundbreaking first premiered at SXSW in 2016, and after that it made its TV debut all around the world. Although it could be watched as a massive 8-hour documentary, it's meant to be enjoyed as a miniseries, because every single episode tries to put its attention into different stages of the music production evolution.
It is a project of Sir George Martin, legendary Beatles producer. Martin was a man fascinated by the innovation of the music production and recording, and he thought that these stories of experimentation in the music world should be put out for the world to see.
The tv series has a very long list of interviews with great artists from very different genres of music, going from B.B King and Paul McCartney, to RZA, Bon Iver and Q-Tip.
What will drive you directly into loving this documentary series is to see how incredibly detailed it is about the processes of music making, and how they have evolved, showing the way artists have experimented with everything to make music come to us in the way it does.

Looking for inspiring music documentaries online? Here on Guidedoc we have these for you

THE DEFIANT ONES (HBO, Netflix)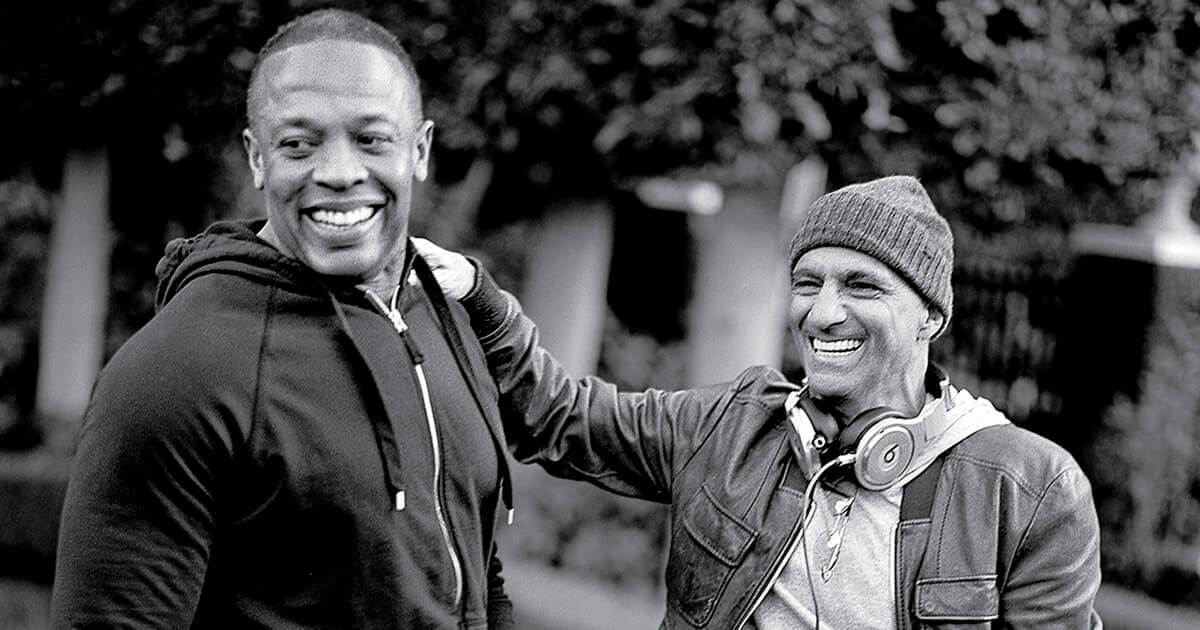 This is probably the most personal series in this list. Because it's mainly focused on Jimmy Iovine and Dr. Dre's careers, and the way they shaped some of the most significant current events in contemporary music culture with Beats Electronics.
It's not a secret that the brand created by these two artists has become one of the most iconic in popular culture. You walk around on the streets and probably 6 out of 10 people are listening to music on their Beats. But this is not the entirety of the series, per se. The Defiant Ones makes an impressive job showcasing the artists that were found thanks to the artistic value of Dre and Iovine.
If Soundbreaking was all about the international field, The Defiant Ones puts its interest mostly in American contemporary scene, delivering interviews with artists that have made an impact in the past ten years like Trent Reznor, Kendrick Lamar and Eminem, as well as other like Bono, Stevie Nicks and Tom Petty. The series focuses on Dre and Iovine's respective backgrounds and rise to success, but always putting into perspective the way these two men have made an impact on other artists' careers.

REMASTERED (Netflix)
Music history is always the focus in this "genre". And although much of what is told here music fans already know it, the truth is that these stories never get old because they remind us of urban legends that we have heard before, but never seen in detail.
ReMastered's first episode is all about Bob Marley. "Who Shot the Sheriff?" is the title of the first instalment of a series brought by Netflix, who will release a new episode each month dedicated to a legend of music. It's said that amongst the artists that will be featured are Johnny Cash and Robert Johnson, but the series also put attention into the stories of great Latin American artists, with an episode dedicated to Victor Jara.
The idea behind ReMastered is that of showing unsolved mysteries in music culture. Those urban legends everyone talks about but in fact there are a lot of pieces missing from the puzzle. This is an exciting premise if you think about music documentary series in retrospective. Let's face it. The idea of "remasterizing" stories is exceptional.
Watch more great documentaries on Guidedoc